Server and Services monitoring service by DataCenter.lk
---
Server and Services
Monitoring
Do you want to keep an eye on your Server, VPS performance?
Maybe you want to see if you're truly getting that 99.99% uptime as your web hosting provider promised?
Or perhaps you're worried that your site or service isn't fast enough?
Are you busy and you don't have time to monitor your services?

Well, hold up – we've got a solution for you. That's where website monitoring services can come in handy. With these service, you can see where your server's strong and weak points are, which helps you improve your service and boost performance and service uptime.
Awesome, huh?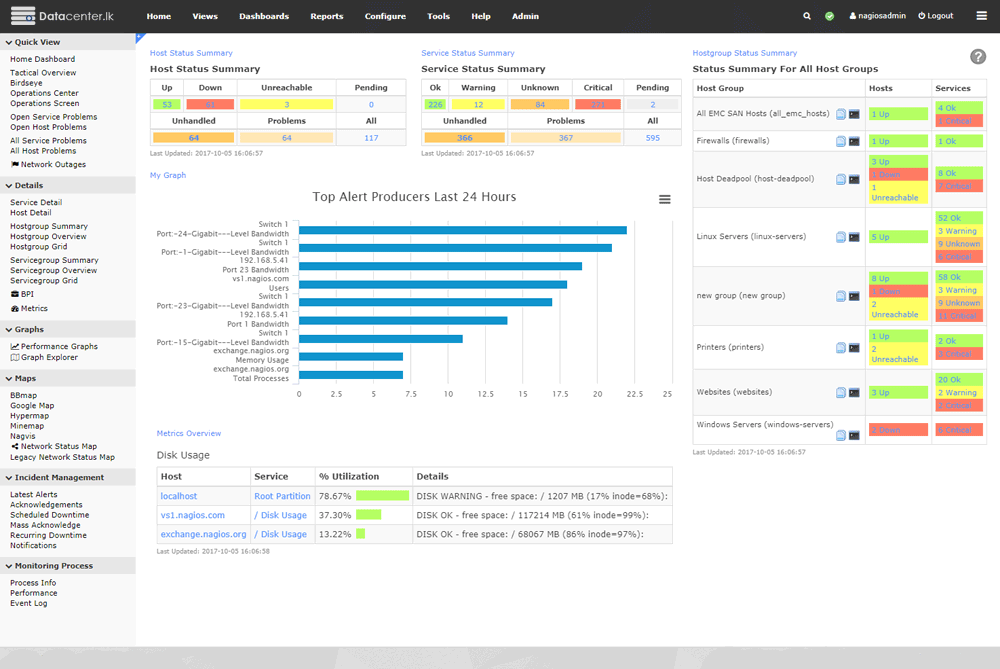 Services

provided
Monitoring of network services such as SMTP, POP2, HTTP, NNTP, ICMP, SNMP, FTP, SSH.
Monitoring of host resources such as processor load, disk usage, system log on a majority of network operating systems, including Microsoft Windows, using monitoring agents.
Monitoring of any hardware like probes for temperature, alarms,etc. which have the ability to send collected data via a network to specifically written plugins.
Remote monitoring using Nagios Remote Plugin Executor or through SSH or SSL encrypted tunnels.
Parallelized service checks and automatic log file rotation.
Support for implementing redundant monitoring hosts, performance data graphing and database backend.
A web-interface for viewing current network status, notifications, problem history, log files, etc.
What you get?
---
24 X 7 X 365 Monitoring
Send Email Alerts
Support for customized scripts
Monitor anything in your Server / VPS
Performance Reports
Support for multiple hosts
SNMP Support
What will offers?
---
This will offers monitoring and alerting services for servers, switches, applications and services. It alerts users when things go wrong and alerts them a second time when the problem has been resolved.
How much cost for the instalation?
---
Just
Rs5,000.00
for one Server / Month
BUY NOW